Sarah Kenderdine & Jeffrey Shaw 莎若·肯德丁与邵志飞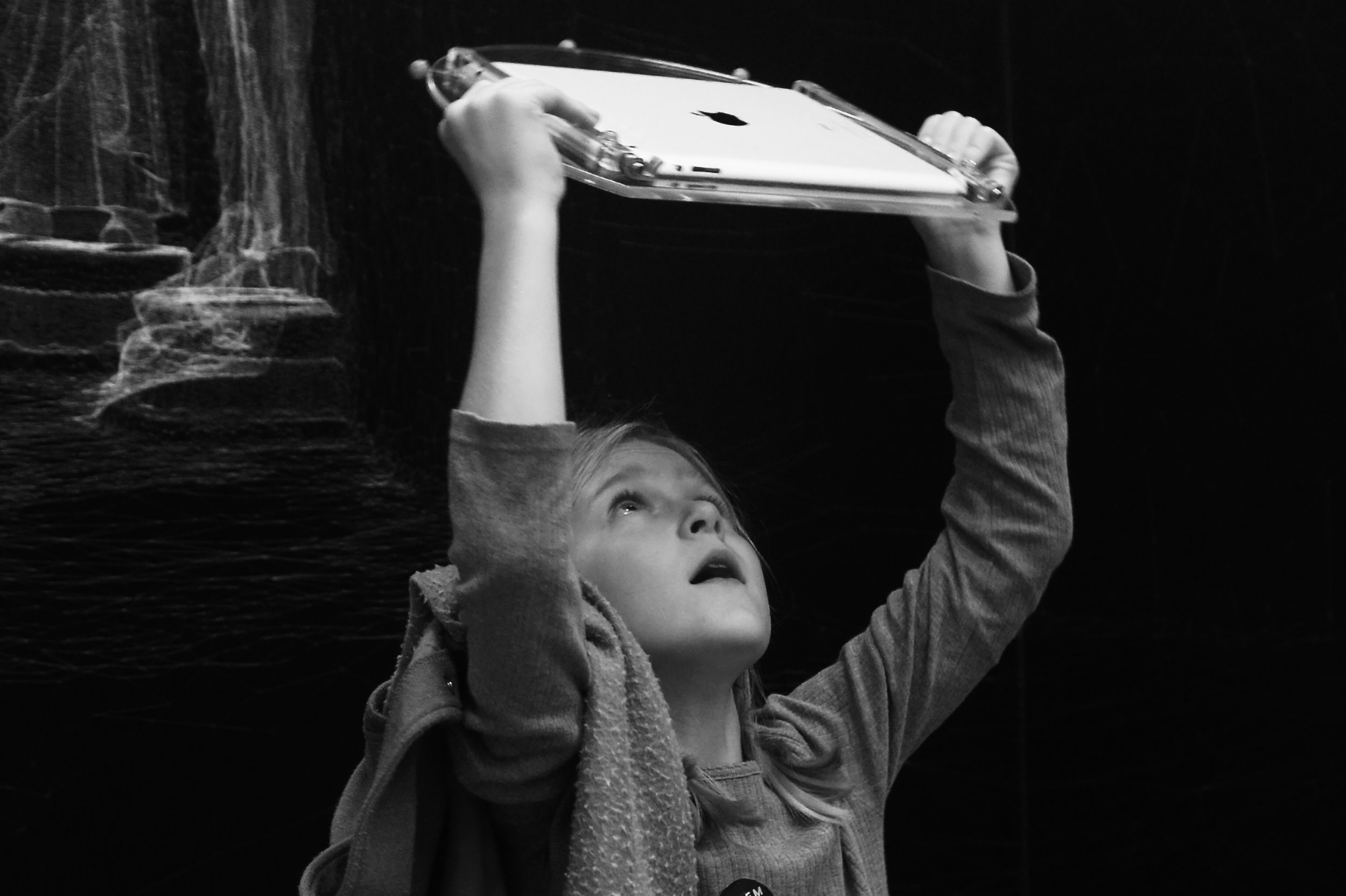 人间净土——扩增实境版
Pure Land AR
延展现实空间装置 Augmented Reality Site--Specific Installation 2012-2016
敦煌学院与香港城市大学联合制作 With the participation of the Dunhuang Academy and City University of Hong Kong
人间净土——扩增实境版
莎若·肯德丁 邵志飞 2012
《人间净土——扩增实境版》是一件与现实融合的装置作品,观者可以全方位沉浸在互动的数字空间,并体验中国甘肃省的敦煌莫高窟 220 号洞窟。借助敦煌研究院所提供的激光扫描模型及高清晰照片等考古研究资料,这个作品以沉浸式的互动装置展示了被誉为世界文化遗产的敦煌莫高窟。
《人间净土——扩增实境版》通过 iPad 让观者探索 220 洞窟内早期唐代佛教壁画。 220 洞窟的壁画和内部构造都按照原尺寸被转化成一个虚拟矩形空间,观者可在展览空间中自由探索,通过手持设备欣赏洞窟全貌。
220 洞窟的虚拟重构,是通过红外线摄像头去追踪来自两个 iPad 的位置和方向, 再由电脑通过 WIFI 直接把与敦煌现场一样的洞窟图景传输到 iPad 上,这个 iPad 就成了一个可移动的展示框,展出虚拟生成的洞窟,因此 iPad 的交互模式完美地把洞窟 220 的真实空间和虚拟模型联系起来。《人间净土——扩增实境版》的界面为单一用户及多观者而设,实现了画廊和美术馆的交流化概念。
展览墙面上的线体画和 iPad 内的虚拟洞窟内景,提供了真实和幻想之间的线索, 介于重现和非现之间的临界区域。《人间净土——扩增实境版》罗织了一个微妙的悖论,在虚拟化和真实化的网络中,电脑技术将观者的现实位置与另一空间通过虚拟传输的方式连接一致,在作品中这两个地方正是展览的场地和敦煌莫高窟。
媒体历史学家奥列弗·格劳:"图像是媒体科技之空间幻象、沉浸和展示的主体, 而任何时代都会使用其所有来扩展最大幻象的可能性"。《人间净土——扩增实境版》穿梭于真实和幻境,把敦煌佛教艺术中的雕刻和壁画转化成对美学的表达。 这个项目超越片面的模仿,以交互的方式糅合数字技术和视觉化的世界遗产,利用可感知的现场感与模拟的过去联系起来。《人间净土——扩增实境版》如同剧场一般,将简单的文献转化为机动的空间及现象。
Pure Land AR
Sarah Kenderdine, Jeffrey Shaw 2012
Pure Land AR is an 'augmented reality' installation that allow visitors to interact with a full scale digital facsimile of cave 220, located at the UNESCO World Heritage site of the Mogao Grottoes, Gansu Province, northwestern China. It integrates an immersive interactive display system with high-resolution digital archaeological datasets consisting of high-resolution photographs and a laser scanned architectural model provided by the Dunhuang Academy.
Pure Land AR employs iPad screens that visitors use as augmented reality mobile viewing devices to explore the early Tang Buddhist wall paintings inside cave 220. The paintings and sculptures of the caves are rendered virtually within the architecture of a simply constructed rectangular room that shares the same dimensions to those of cave 220 itself. Walking around inside this room with tablet screens in hand, visitors are thus able to view the architecture of the cave and to explore its sculptures and wall paintings as they appear on their mobile displays.
The technical rendering of cave 220 in this work is facilitated by the use of infrared cameras that accurately track the position and orientation of the two iPads. Computers then create the appropriately rendered views of the actual Dunhuang cave, which are transmitted to the iPads via WiFi. In this way the iPad shifts from being an object in and of itself to functioning as a mobile framing device for the staging of a virtual rendering of the real cave - an interactive performance where cave 220 is being exactly mapped between real space and the digital model. Pure Land AR also incorporates the dynamics of a single-user, multi-spectator interface that is so important to the notion of museums and galleries as places of socialization.
The conjunction between the empty exhibition walls and the life-like cave rendering seen on those walls via the iPad display operates in a border zone between the indexically real and the phantasmatically virtual, between re-embodiment and dis- embodiment. Pure Land AR thus weaves a set of subtle paradoxes into its web of virtualization and actualization, which align with the technologies of telepresence that virtually transport the viewer between their actual location and another place--in this case between an exhibition space and Dunhuang.
The media historian Oliver Grau points out that images have always been subject to the media technologies of spatial illusion, immersion and display, and 'every epoch uses whatever means available to create maximum illusion'. Pure Land AR is an 'apparatus-situation' for the conjunction between real and virtual formations that gives transacted aesthetic expression to Dunhuang's Buddhist art treasury of mural paintings and sculptures. It projects a technical and optical strategy for the digital rendering of cultural content and heritage landscapes that goes beyond mimetic representation. By stimulating a palpable sense of 'being there' and co-presence with the past, Pure Land operates as a theatre of embodied experience that transforms simple documentation into a kinesthetic and phenomenological encounter with place.
莎若·肯德丁在博物馆和美术馆互动和沉浸式体验的最前沿研究探索。 她是数字遗产,数字人文和大数据可视化领域的先驱,是国际相关论坛的演说常客。莎若兼任 UNSW 艺术设计教授、UNSW 跨学科扩展感知和互动中心可视化主任。她是澳大利亚国家实验艺术研究所的副主任,并继续作为澳大利亚维多利亚博物馆特殊项目的终身职位。莎若在 2016 年当选澳大利亚数字人文协会主席。
Sarah Kenderdine researches at the forefront of interactive and immersive experiences for museums and galleries. She is a pioneer in the eld digital heritage, digital humanities and big data visualisation and is a regular keynote speaker at related forums internationally. Sarah concurrently holds the position of Professor at UNSW Art & Design and Director of Visualisation for UNSW's interdisciplinary Expanded Perception and Interaction Centre (EPICentre). She is Deputy Director of the National Institute for Experimental Arts (NIEA) and continues a life-long position as head of Special Projects for Museum Victoria, Australia. Sarah was elected President of the Australasian Association for Digital Humanities (aaDH) in 2016.
 
邵志飞,1944 年出生于澳大利亚墨尔本,在中国香港生活和工作。邵志飞一直是新媒体艺术的领军人物, 从 1960 年代的表演,扩延电影和装置艺术开始,到现在技术通讯和虚拟化形式。在其备受赞誉的作品中,他率先开创了虚拟和增强现实,沉浸式可视化环境,电影和互动叙事领域的创造性使用基准。他是阿姆斯特丹事件结构研究小组(1969 - 1979 )的联合创始人,德国媒体艺术中心(ZKM)视觉媒体卡尔斯鲁厄研究所 (1991 - 2002)的创始主任。在德国媒体艺术中心,他构思并实现了一个创新的艺术研究计划,包括数字出版的艺术系列,多媒体的系列国际媒体艺术展览,超过百多个艺术家驻地项目,以及发明新的创意平台,如扩展虚拟环境(1993);地方(1995)和全景导航器(1997)等作品的开发。1995 年,邵志飞被任命为卡尔斯 鲁厄高等艺术学院的媒体艺术教授。邵志飞的广为人知的作品包括:《可阅读城市》(1989 年),《虚拟博 物馆》(1991 年),《金牛》(1994 年),《地方用户手册》(1995 年),《识别洞穴》(1997 年)和《生 命之网》(2002 年)。他还联合策划了在卡尔斯鲁厄德国媒体艺术中心举行的"未来电影"展,其出版物由麻省理工学院出版社出版。 邵志飞曾与其他艺术家密切合作,包括 Tjebbe van Tijen,Theo Botschuijver,Dirk Goeneveld,Peter Gabriel,Agnes Hegedues,David Pledger,The Wooster Group,William Forsythe,Dennis Del Favero,Peter Weibel,Jean MichelBruyère, Gideon May,Bernd Lintermann 和 Sarah Kenderdine。 2003 年, 他被授予澳大利亚研究委员会联合奖学金,并返回澳大利亚,指导 iCINEMA 在悉尼新南威尔士大学互动电 影研究中心,在那里他继续开创先锋艺术作品,如 Place-hampi,AVIE ,t_visionarium et unmakeable love 等 作品的完成。自 2009 年以来,邵志飞是香港城市大学媒体艺术教授和创意媒体学院院长。
Jeffrey Shaw, born in 1944, Melbourne (Australia), lives and works in Hong Kong (China). Jeffrey Shaw has been a leading gure in New Media Art since its emergence from the performance, expanded cinema and installation paradigms of the 1960s to its present day technology-informed and virtualized forms. In a prolific oeuvre of widely exhibited and critically acclaimed work he has pioneered and set benchmarks for the creative use of digital media technologies in the fields of virtual and augmented reality, immersive visualization environments, navigable cinematic systems and interactive narrative. He was co-founder of the Eventstructure Research Group in Amsterdam (1969-1979), and founding director of the ZKM institute for Visual Media Karlsruhe (1991-2002). At the ZKM he conceived and ran a seminal artistic research program that included the artintact series of digital publications, the multimediale series of international media art exhibitions, over one hundred artist-in-residence projects, and the invention of new creative platforms such as the Extended Virtual Environment (1993), Place (1995) and the Panoramic Navigator (1997). In 1995 Shaw was appointed professor of media art at the Staatlichen Hochschule f r Gestaltung, Karlsruhe. Shaw's landmark art works include the Legible City (1989), The Virtual Museum (1991), The Golden Calf (1994), Place---A Users Manual (1995), Configuring the Cave (1997) and The Web of Life (2002). He co-curated the seminal "Future Cinema" exhibition at the ZKM Karlsruhe, the catalogue of which was published by MIT Press. Shaw's career is also notable for his close collaborations with fellow artists including Tjebbe van Tijen, Theo Botschuijver, Dirk Goeneveld, Peter Gabriel, Agnes Hegedues, David Pledger, The Wooster Group, William Forsythe, Dennis Del Favero, Peter Weibel, Jean Michel Bruyère, Gideon May, Bernd Lintermann and Sarah Kenderdine. In 2003 he was awarded a Australian Research Council Federation Fellowship and returned to Australia to direct the iCINEMA centre for interactive cinema research at the university of New South Wales in Sydney, and where he continued to produce pioneering artistic works such as Place-hampi, AVIE, t_visionarium et unmakeable love. Since 2009 Shaw is chair professor of media art and dean of the School of Creative Media at City University in Hong Kong.