朱赫 Zhu He
作品名称:《童年白日梦》
导演:朱赫制片:朱赫国家/地区:中国
创作时间:2013
编剧:朱赫
美术:朱赫
音乐:朱赫
片长:4分9秒
Title: Daydream in Childhood
Director: Zhu He
Producer(s): Zhu He
Country/Area: China
Year of Production: 2013
Screenplay: Zhu He
Design: Zhu HeMusic: Zhu He
Length: 4 mins 9 secs
《童年白日梦》作品介绍
江南小镇多雨,小时候在门口等妈妈回家的时候,经常下着小雨,独自玩耍,邻家的奶奶经常送玩具给我玩。我经常发呆并且幻想长大以后做一个直升飞机飞行员,幻想在开飞机时遇见十八年后的自己。
The Synopsis of Daydream in Childhood
It is often rainy in the small town of Jiangnan. When I waited formy mom in front of door, it was always raining. I played alone and a grandma in the neighborhood used to give me many toys. I liked to stare blankly at nowhere and imagined that I could be a helicopter pilot in the future and I wished that I could encounter myself who came from 18 years later.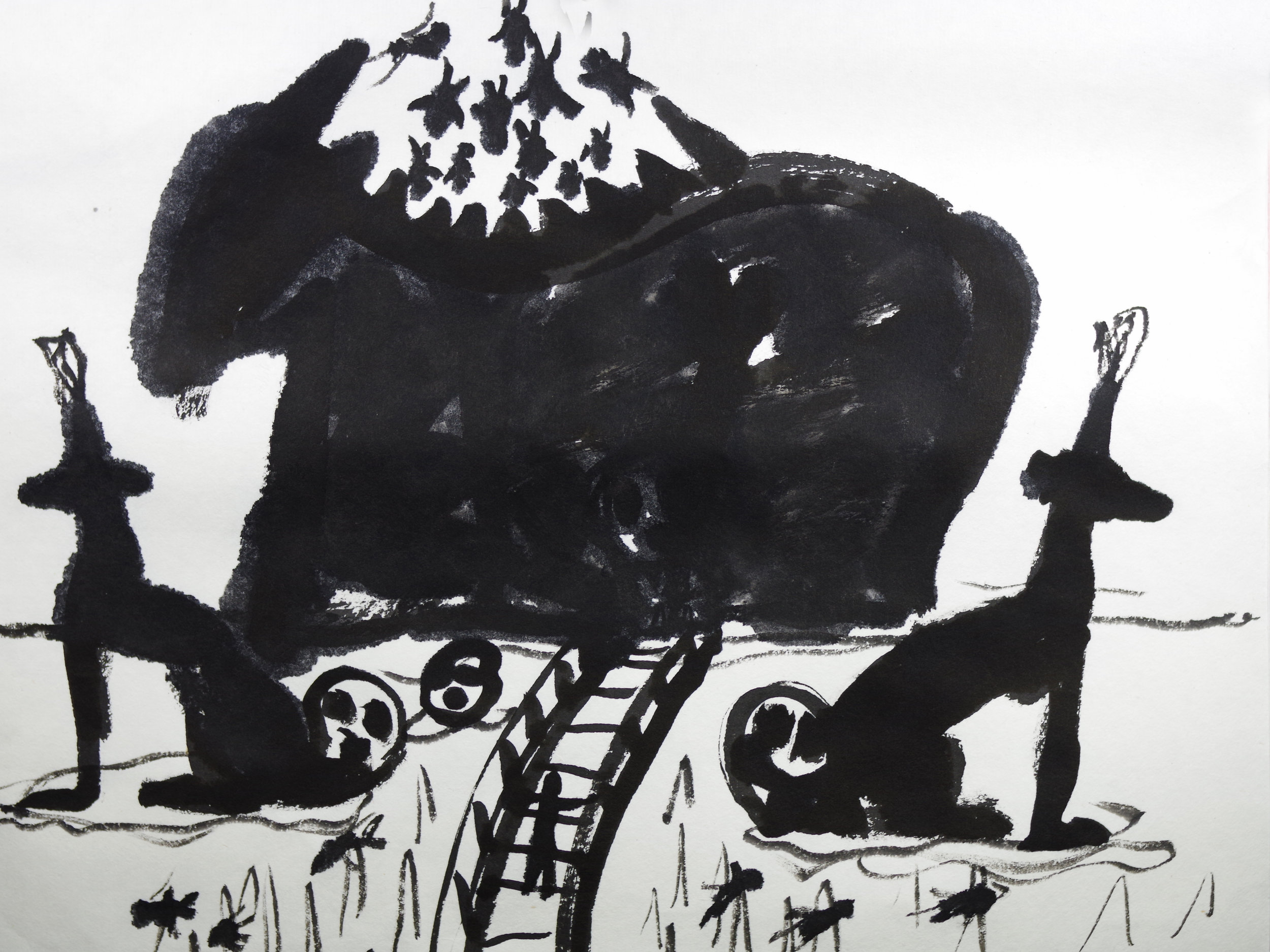 作品名称:《水墨动画第二部分——危险》
导演:朱赫
制片:朱赫
国家/地区:中国
创作时间:2013
编剧:朱赫
美术:朱赫
音乐:朱赫
片长:2分54秒
Title: The Second part of Ink Animation— The DangerDirector: Zhu HeProducer(s): Zhu He
Country/Area: China
Year of Production: 2013
Screenplay: Zhu He
Design: Zhu HeMusic: Zhu HeLength: 2 mins 54 secs
《水墨动画第二部分——危险》作品介绍
主人公灵魂被窃取后(第一部分)掉到了邪恶恶魔的老巢,他亲眼见证了魔鬼吃人的场景,魔鬼头发现他欲将他吃掉的时候,被天神发现并出手相救......
The Synopsis of The Second part of Ink Animation—The Danger
After the soul of the hero has been partly stolen (The 1st Part), he drops into evil monster's den where he witnesses the cannibal scene by the monster. The monster finds out his appearance and tends to devour him, but god suddenly shows up and saves him.
导演简历
朱赫,23岁,1991年生于景德镇艺术世家,2011年毕业于西安美术学院建筑环艺系,2011-2012年上海外国语大学进修英语一年(二外德语),2012年至今就读中国美术学院中德艺术研究生院,2014年柏林艺术大学 UDK 学习一学期。
Biography of Director
Zhu He is 23 years old, born in a family of artists in Jindezhen. Zhe He graduated from Architecture and Environment Department of Xi'an Academy of Fine Arts in 2011. In 2011-2012, he went to Shanghai International Studies University to have a further study of English (second foreign language: German). From 2012 up to now, he studies in China-Germany graduate school of Art. In 2014, Zhu studies in UDK for one semester.