蒋涛 Jiang Tao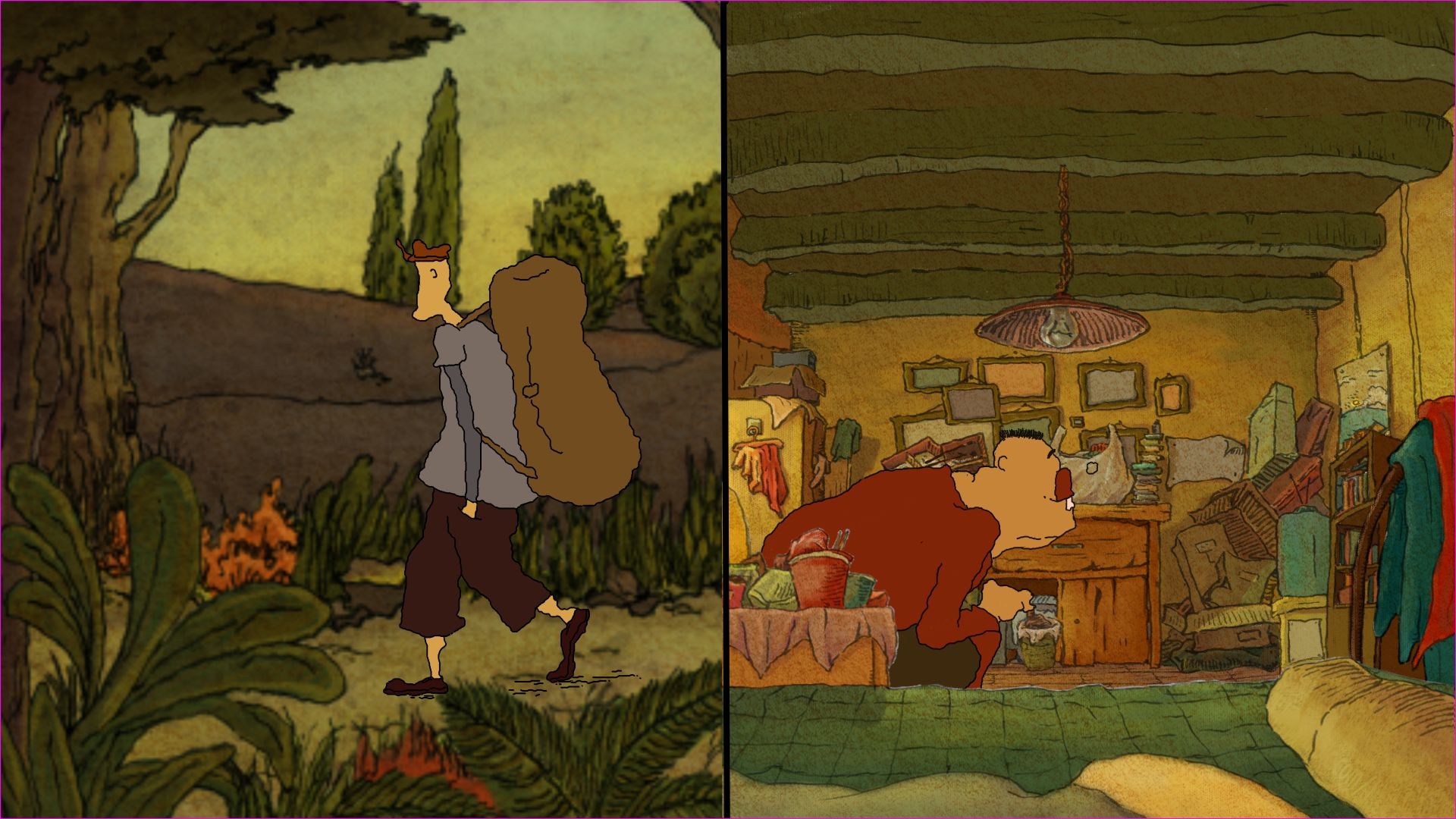 作品名称:《错失的风景》
导演:蒋涛
联合导演:杨薇、欧琴
国家/地区:中国
创作时间:2014
编剧:蒋涛
美术:蒋涛、杨薇、欧琴
片长:7分4秒
Title: The Missed Scenery
Director: Jiang Tao
Co-director: Yang Wei, Ou Qin
Country/Area: China
Year of Production: 2014
Screenplay: Jiang TaoDesign: Jiang Tao,Yang Wei, Ou Qin
Length: 7 mins 4 secs
作品介绍
两个年轻人,一个爱旅行(甲),一个典型的宅男(乙)。一天,甲告别乙去旅行,乙送甲一顶帽子作为纪念,帽子上有监控器,于是甲所经历的乙都能看到,随着时间推移,乙被甲的经历吸引,决定像甲一样出门远行,然而,长期的宅造成四肢退化,身体肥胖到门都出不去......
Synopsis
There are two young men: one (A) loves travelling, while the other (B) loves staying at home. One day, A goes out for a trip and he comes to say goodbye to B. B gives a hat on which there was a monitor to A as a gift. This monitor could help B see whatever A sees during A's trip. With time passing by, B has been deeply attracted by A's experience so he decides to follow A's steps. Unfortunately, due to the lack of exercises for a long time, the legs of B have already been degraded. He is too fat to get out of the door...
导演简历
蒋涛,23岁,出生于江苏,现居浙江杭州。2010 年考入中国美术学院动画系。2014 年本科毕业并与同学"杨薇、欧琴"共同创作动画作品《错失的风景》。
Biography of Director
Jiang Tao is 23 years old. He was born in Jiangsu Province. Jiang Tao lives in Hangzhou. He was admitted in the department of animation from China Academy of Art. In 2014, he graduated and created The Missed Scenery with two other colleagues Yang Wei and Ou Qin.